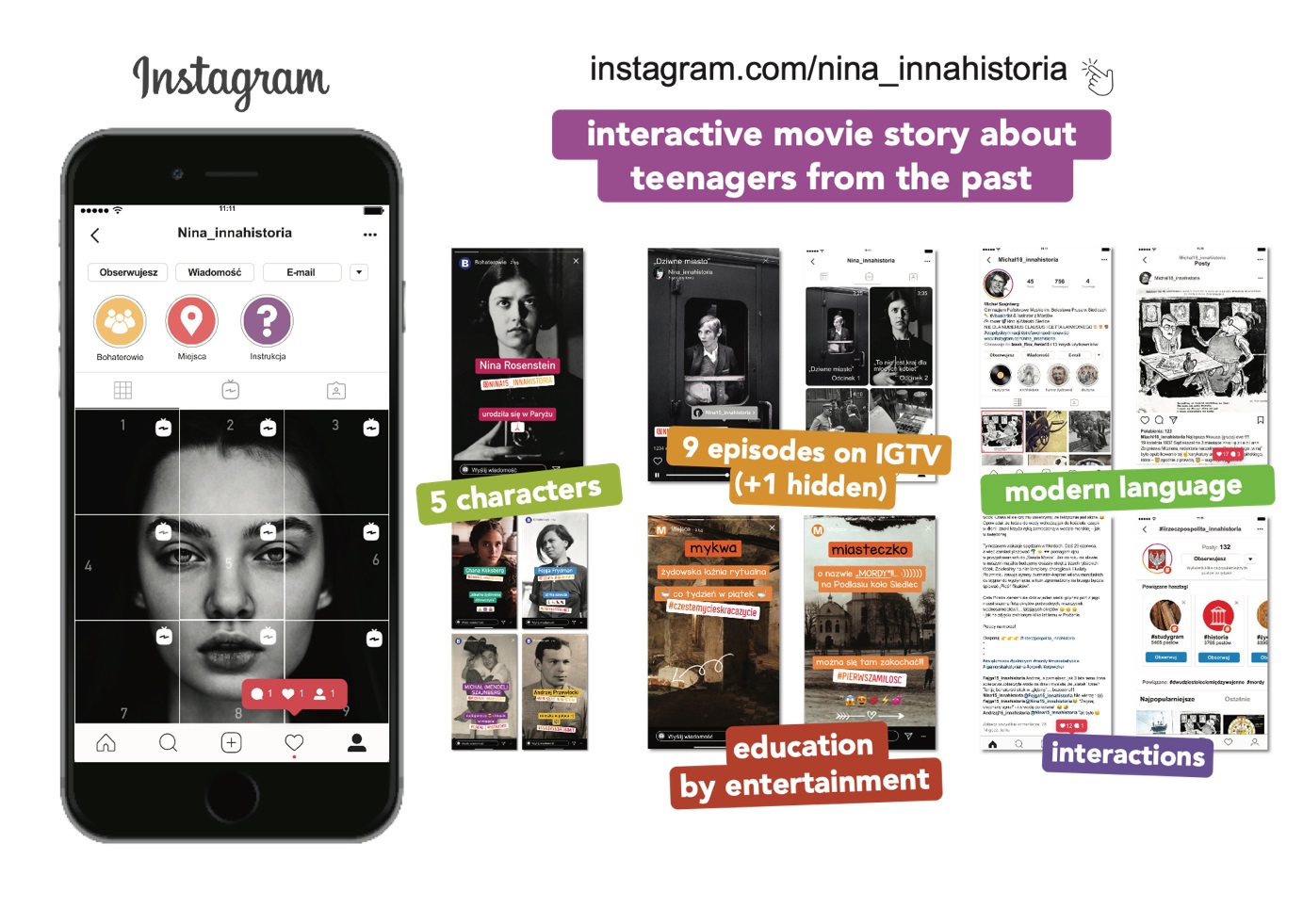 Project
Description of the concept of the interactive historic film Nina_theotherstory
Project description
The authors of the concept are the Cewet Tov group, meaning "good team" in Hebrew. The group consists of: Ewa Jarosz – script, visual concept, decision tree, Jacek Kadaj – visual + interactive concept, mock-up, Iga Łapińska – script, visual concept, Nina Karolina Nowakowska – script, visual concept + interactive, individual interviews with users.
Nina_theotherstory is an interactive historic film story about teenagers from the past, designed for the Instagram platform. In ten film episodes (9 + 1 hidden, which acts as an epilogue) we will tell about five heroes: the main character Nina, 4 supporting characters and two nations living side by side over 12 months in one small city named Mordy in Poland (1937).
The plot of the interactive film is based on the following story: After the death of Nina's father, 15-year-old girl has to move from Paris to small town Mordy in nort of Poland. It's September 1937 and she has the most important year of her life ahead of her. Gradually, she immerses herself in the reality of the Polish-Jewish town – she meets people, makes her first friendships, gets into conflicts and even falls in love. Although she wants to return to France at the beginning, in time she finds a new home for herself in Mordy and an important life goal.
Nina is bright, aggressive, impulsive, rebellious, a bit selfish and alien in Mordy, just like our addressees. She has conflicting feelings, but she's really looking for a home… and herself. We want the viewer to share her curiosity, anger, euphoria, rebellion, loneliness, and hope – and all the time in this story she remains very close to the protagonist.
Apart from Nina, the viewers follow the fate of her peers: Michał – an artist-hipster, Chana – a pre-war Jewish cabinet maker, Andrzej – a patriot and history fan, and Fejga – an idealist with a social passion. Thanks to this, we reach people aged 13-15 with different interests.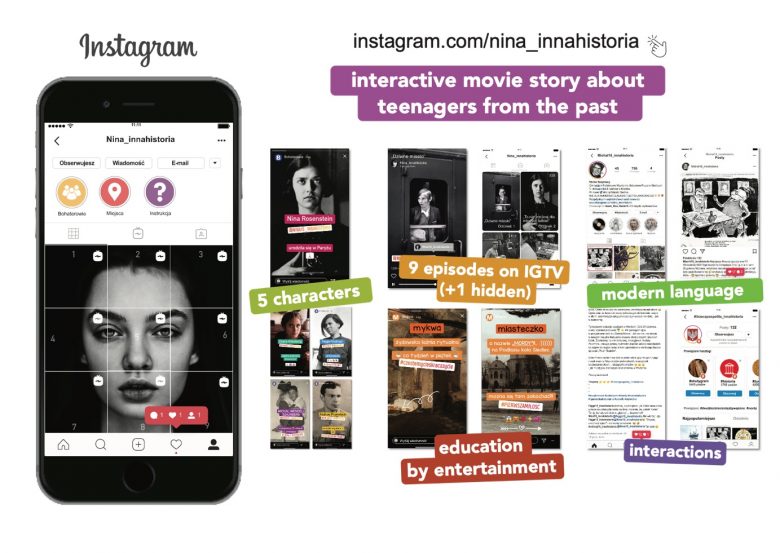 The main account on the Instagram platform will be the account: nina_theotherstory where it will be possible to move to the accounts of individual characters. On the main page there will be posts consisting of a mosaic of 9 elements – a portrait of a Nina under which you can click 30 seconds episode previews and full episodes will be available on IGTV. After watching episode 9, the viewer gets to the bonus – episode 10 – epilogue. Stories (IG function) will be used to describe the entire project, with information about the characters, places and instructions on how to navigate through the whole interactive story. Navigating between accounts, posts and materials will be done through the usual Instagram features – @account tags in bio, posts, comments, videos, IGTV and unique internal hashtags.
The content of the educational materials will be posts by individual characters of the stories, which will include photos, maps, films, recipes, newspaper articles, etc. hashtags.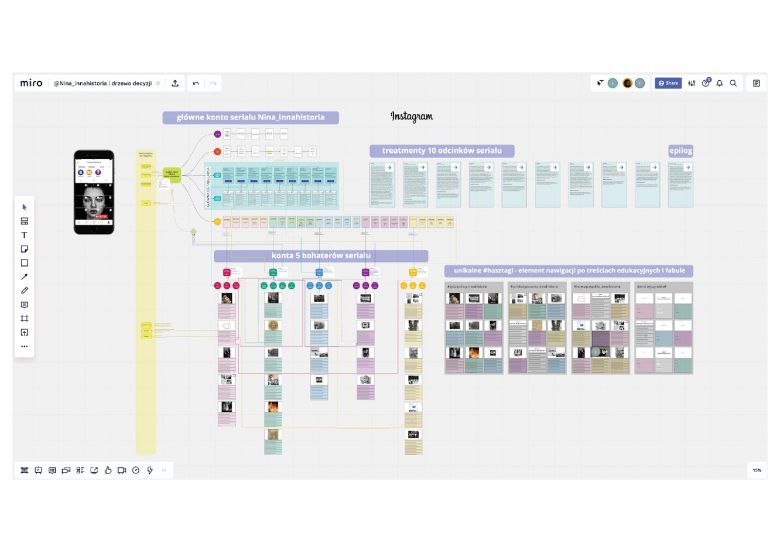 Each post will be moderated by a real person aged 13-15.
This project has a number of benefits for young audiences:
– learn about the history of the Second Polish Republic and the culture of Polish Jews,
– in pre-war teenagers, they recognize their own dilemmas and desires
– experience the story on their own terms – where they feel at home (Instagram platform)
– acquire knowledge in a light, live form (education through participation)
– they do what they normally visit Instagram for: they watch someone's life and collect inspiration
Interactive mockup of the film can be viewed here.
For the treatment and each episode story description and site concept, see the decision tree here.